10 Best Road Trips in Washington
By: Luke Shaff ~ 6/2/2022
Washington is one of the most beautiful states and has the best scenic routes to take road trips on during the summertime. Here are the Top 10 scenic road trips that would be great to take this summer!
Olympic National Park Loop
This loop takes you in a complete circle around the Olympic National Park and is 600 miles. You can stop along the points of the Washington Coast, Olympic National Park and Hoh Rainforest! This is a great trip if you are looking to leave for a couple of days, but not wanting to travel outside the state.
Interstate 90 & Snoqualmie Pass
This route goes from Seattle to Spokane and is 298 miles total. Great spots to stop at along this route would be Seattle, Snoqualmie Falls, Columbia River and Spokane. This route is good for a day trip or also just a quick overnight trip.
Mountain Loop Highway
This route is 97 mile loop and is best when you drive in the summertime and early into the fall. This loop has a couple of things that might be interesting for older kids such as ice caves, and ghost towns like Monte Cristo. The loop is half paved, and half not paved, so it would be in best interest to have a car that can handle the roughness.
Stevens Pass (Highway 2)
This route is one that most everyone might know if you have ever headed to Leavenworth. This route starts in Seattle and goes to the little German town of Leavenworth and is 234 miles round trip. During this route you get to witness the gorgeous views of Lake Wenatchee, some river views, and there are some Cascade Hikes you cannot miss. End your trip with a brat and some cute small stores in Leavenworth.
North Cascades Highway (Highway 20)
This route is best to take at the end of summer and starts in Sedro-Woolley and goes to Winthrop. This is a nice drive if you really do not want to be around crowds and enjoy hiking and lake views. This route is roundtrip and is 250 miles. You will get to see some farmland and will get to drive along the Skagit River. One of the best views is the Diablo Lake Overlook. You can hike up to Diablo Lake, but it is 7.7 miles round trip and is an all day hike. There are also a couple of picnic areas to be able to stop and eat lunch!
San Juan Island Loop
This is a great loop to take with the family in the summertime! It is a quick 40 mile loop and you can take the ferry! There are many family activities to do and even make a weekend of it. Whale watching and the San Juan Historical Museum is the best to take the kids to see or even just for a romantic getaway. On the other side of the island is some beach area to walk around and some ice cream shops to grab a snack at!
Whidbey Island Scenic Isleway
This getaway is fun for the day and you get to enjoy a ferry ride! It is 60 miles round trip from Seattle (including the ferry ride). Deception Pass is one of the most popular and beautiful passes in the Northwest and is a sight to see at Sunset. In the small town of Langley, you are exposed to multiple restaurants that serve the fresh seafood of the Northwest.
The Washington Coast
The Washington Coast is a great road trip to take ANY time of year and is fun for the whole family on vacations or breaks. The route is 260 miles and drives along the entire coast of Washington. Most of what you will see are the beaches, tide pools, and sea stacks! This is great for marine biology and some real education about animals and tides.
Chuckanut Drive (Highway 11)
This drive is a great when you need a day date and to just get away for a little bit. This drive includes flower fields, farm, and breweries. This route is only 25 mile round trip from Burlington to Bellingham. There is a spot for oyster farming, which could be new and exciting if you have never done that. There are also 15 breweries in the area to stop and do some taste testing! At the end of the drive is a quaint and cute shopping center with local farmers and local artists.
The Palouse Highway
This route starts on the east side of the state in Spokane, WA and is a 120 mile stretch down to Lewiston, ID. This is a great drive to view the other side of the state and be able to see farmland, small towns, and rolling hills. This route would be great to travel during the spring and summer time to be able to enjoy the sunshine and the warm weather. Kamiak Butte is a small hike and has beautiful views of vast farmland. On a warm weather day, you can also stop to swim and see the Palouse Falls and continue your journey after!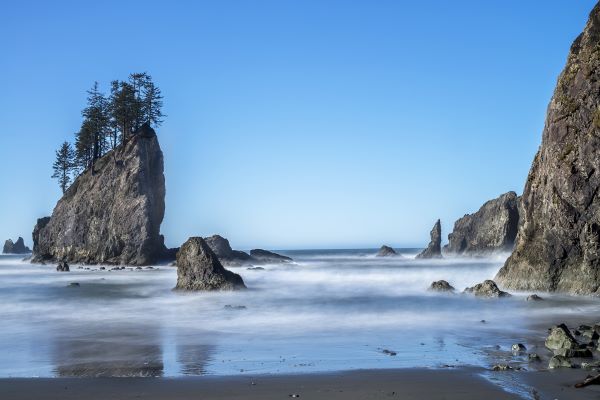 ---